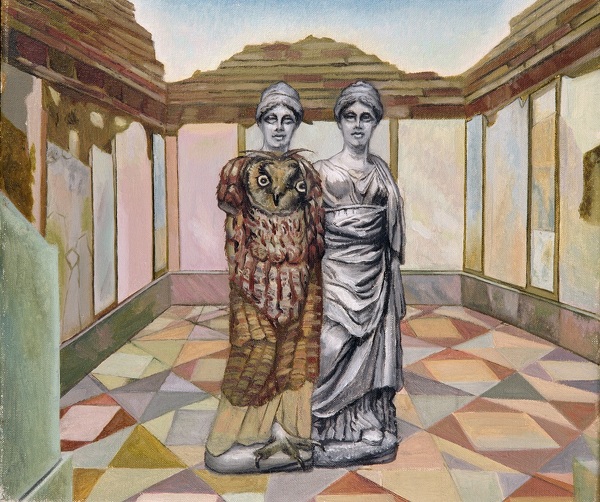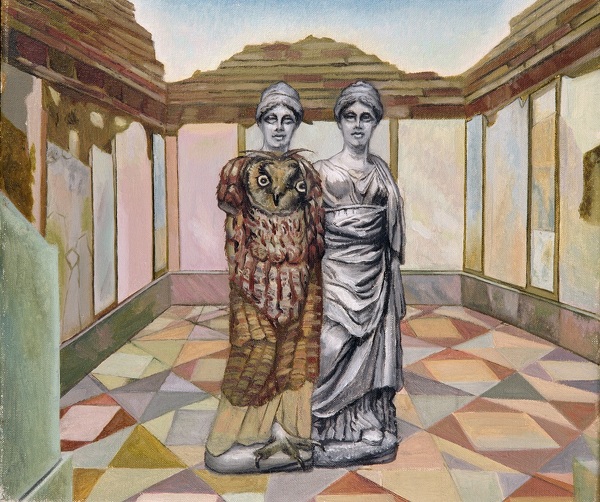 Edith Rimmington (1902 - 1986):
Sisters of Anarchy, 1941-42
Framed (ref: 9968)

Oil on canvas
11 ¾ x 13 ¾ in. (30 x 35 cm)
See all works by Edith Rimmington oil women Fifty Works by Fifty British Women Artists 1900 - 1950
Provenance: The Sherwin Family
Art reflects society, both in its deeper and its lighter aspects. So in this painting, as well as the two statues of the Greek goddess Athena (known to the Romans as Minerva) in a ruined house open to the sky, we note how the soft muted colours of the damaged painted walls and the chequered tiles not only serve to establish a classical mise-en-scène, but also echo those of interior design and of women's clothing in the 1930s, a period when ancient Greece was a fashion inspiration.
Edith Rimmington, who moved to London in 1937 and became part of the British Surrealist Group, typically presents us with a complex, confusing image and an equally perplexing title. The focus is on the two figures of Athena, patron of philosophy, the strategy of war, and the crafts associated with women such as spinning and weaving. The Sisters of Anarchy are identical in pose and feature (doubling being a popular conception in Surrealism), with blank, round eyes reminding us that Homer refers to Athena as "owl-eyed".
On the right she wears a chiton girdled under the bust and a large cloak (himation), and on the left this mantle has been transformed into an owl. This is not the little owl (Athene noctura) associated with her (the Greeks loved owls for their wisdom and intelligence), but a large, fierce owl more akin to the Roman view that such birds were bad omens, prophets of doom; Hegel declares that Minerva's owl appears when the shades of night appear, and as Minerva, the statue's foot has been replaced by a large claw. We are left wondering if the Sisters see the anarchic spirit of the times reflected in a decade troubled by political tyranny and the ravages of war.
Commentary by Aileen Ribeiro. Ribeiro was Head of the History of Dress at the Courtauld Institute from 1975 to 2009, and is now Professor Emeritus in the History of Art, London University. She is the author of many books; Clothing Art: A Visual Culture of Fashion 1600–1914 (2017) won the Apollo Book of the Year Award.