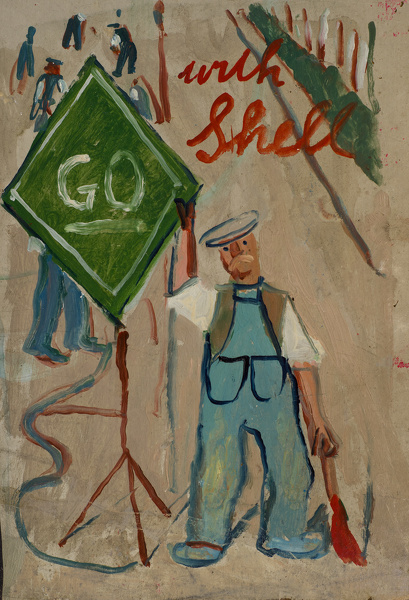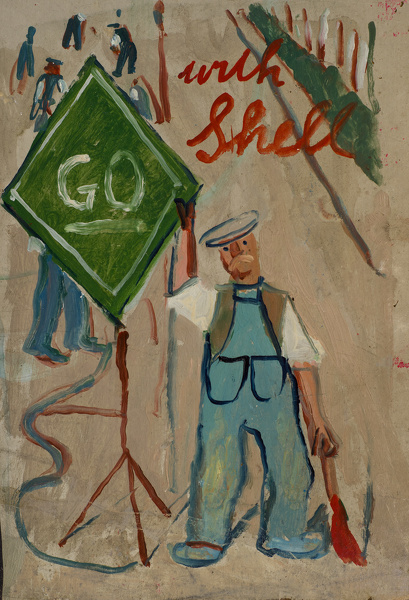 Hover over the painting to magnify (there may be an initial delay while the magnified image is loaded)
Evelyn Dunbar (1906-1960):
Go Shell, proposed design for Shell petrol. c.1937 [HMO 751]
Framed (ref: 6365)

See all works by Evelyn Dunbar design oil panel men work 1.Master Designs 2.dunbar 2022 Dunbar catalogue
Provenance: Roger Folley; Alasdair Dunbar; Hammer Mill Oast Collection
Exhibited:
Evelyn Dunbar - The Lost Works, Pallant House Gallery, October 2015 - February 2016.
Literature:
Evelyn Dunbar -
The Lost Works
, Sacha Llewellyn & Paul Liss, July 2015,
cat. 84
,
page 126-127
.
Dunbar was possibly commissioned in the 1930s to produce original commercial publicity material, as Freedman, Ravilious and others were, but nothing further is known of her designs for Shell. There is no record of Dunbar being commissioned by Shell to produce original publicity material.
The Children's Shop & Commercial Design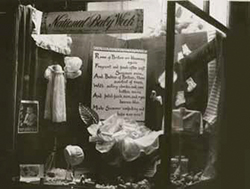 Shop window of The Children's Shop
on Rochester High Street.
"
There was clearly a strong entrepreneurial streak in the Dunbar family. In December 1938
an article in The Chatham News proclaimed that 'Although today there are half-a-dozen
flourishing businesses associated under the name Dunbar, the family was unknown in
Strood when the twentieth century was born.'
William, Evelyn's father, had come south
from Scotland some time in the latter years of the nineteenth century, first to Reading
and then briefly to Bournemouth before finally setting up in business as a bespoke
tailor and draper in Rochester, Kent, 'the archaeologist's and the historian's heaven' as
Richard Church described it.
During the interwar years as the Dunbar children grew to
maturity the name became ubiquitous in Rochester High Street: Evelyn's brother Ronald
branched out into radios and bicycles while two of her sisters, Jessie and Marjorie,
opened The Children's Shop. For several years the living accommodation above this
shop at 244 High Street was also the family home until William bought The Cedars
across the Medway at Strood.
Jessie and Marjorie were only one year apart in age, they never married and were like
twins living for each other happy in themselves, delighting in their work dressing small
children, and firm in their in their adherence to the Christian Science faith in which their
mother had reared them. They established The Children's Shop soon after the end of
World War I and Evelyn, though still in her early 'teens was happy to help. Even when her
commitments at the Royal College of Art and Brockley shifted the focus of her activity
to London, she continued to assist designing headed notepaper (CAT 79) and other
stationery (CAT 77), lettering publicity panels and painting the delightful signboard for
the shop with its frolicking mice and sparrows (CAT 76).
In 1938, some eighteen years after opening The Children's Shop, the two sisters
expanded their business interests when they took over a well-established haberdashery
further down the High Street, including, according to a notice in The Chatham News, its
stock of rare silks: they renamed it The Fancy Shop. Their brother Ronald's business
had by then expanded to such an extent that he took over Strood Hall and in December
that year advertised a Home Comfort Exhibition and a Miniature Radiolympia with:
'TELEVISION, FREE DEMONSTRATION DAILY: FURNITURE, a representative selection
of the most up-to-date and attractive styles for Bedroom, Dining Room and Sitting
Room: CHILDREN'S WEAR and TOYS: Knitting Wools, ART NEEDLEWORK and Fancy
Goods'. The gros point panel Opportunity (CAT 75) embroidered in wools from The
Fancy Shop and copied from a 1936 painting by Evelyn might well have been one of the
pieces of Art Needlework included in this display.
With the opening of The Fancy Shop at 168 High Street Evelyn took over the first floor
to show paintings and items of antique furniture; she named her department the Blue
Gallery and in March 1939 staged an ambitious exhibition of work by friends including
Charles Mahoney, Allan Gwynne-Jones, Kenneth Rowntree and Edward Bawden as
well as sculpture by Bainbridge Copnall. However, with war looming on the horizon,
times were not propitious and the gallery soon closed and Evelyn found employment as
an Official War Artist. The Christian Science Reading Room took over the vacant space
in The Children's Shop under the care of Jessie and Marjorie.
"
Peyton Skipwith