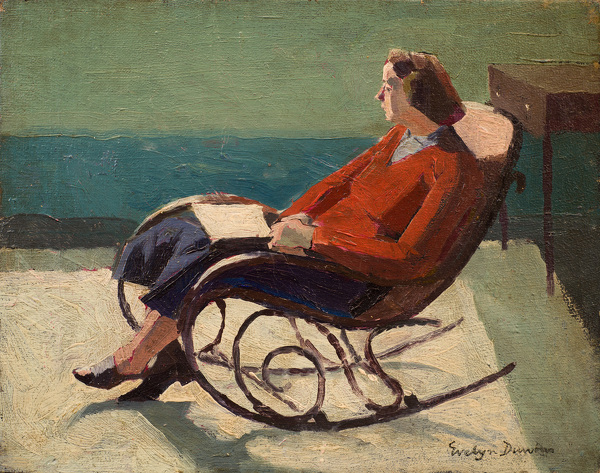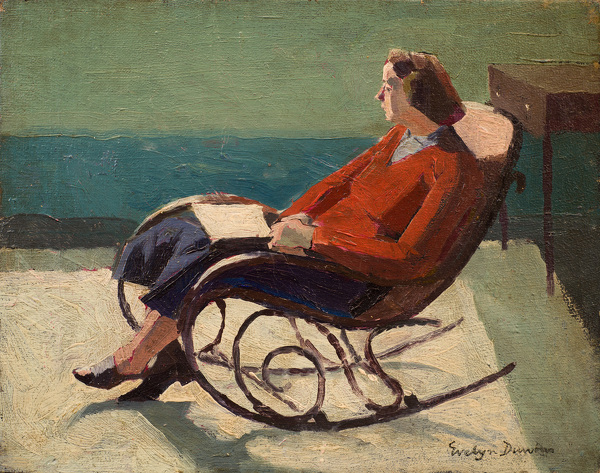 Hover over the painting to magnify (there may be an initial delay while the magnified image is loaded)
Evelyn Dunbar (1906-1960):
Portrait of the artist's mother, Florence, on a bentwood rocking chair, c.1930 [HMO 797]
Framed (ref: 6364)

Signed with studio stamp "Evelyn Dunbar"
Oil on canvas
7.9 x 10 in. (20 x 25.4 cm)
See all works by Evelyn Dunbar oil portraits women 1.PORTRAIT OF AN ARTIST 2.dunbar 2022 49 pictures Rediscovering Women Artist WOMEN
Provenance: Roger Folley; Alasdair Dunbar; Hammer Mill Oast Collection
Exhibited: Evelyn Dunbar - The Lost Works, Pallant House Gallery, October 2015 - February 2016, cat 14.
Literature: Evelyn Dunbar - The Lost Works, Sacha Llewellyn & Paul Liss, July 2015, cat. 14, page 46.
Llewellyn, Sacha, and Paul Liss. Portrait of an Artist. Liss Llewellyn, 2021, p.131.
Florence Dunbar, née Murgatroyd, was the daughter of a Bradford woolmaster. She met William Dunbar on one of his frequent visits to Bradford for textiles for his Reading bespoke tailoring and household linen business. They married in 1895. A tireless and green-fingered gardener, she also painted innumerable floral still lifes. Evelyn owed much to her unceasing encouragement. She died in 1944.