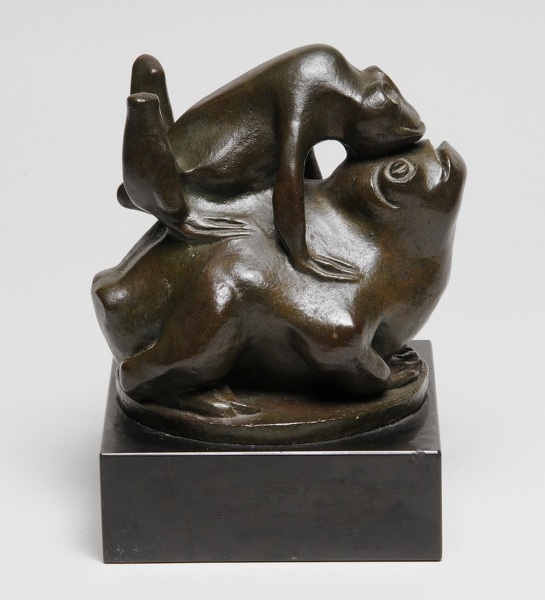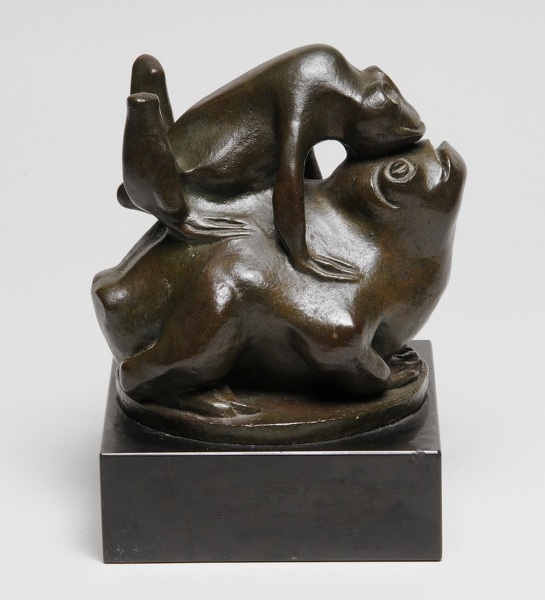 Gertrude Hermes (1901 - 1983):
Frogs II, 1947
None (ref: 9973)

Bronze
19 x 14 x 14 cm
See all works by Gertrude Hermes bronze sculpture animals women Fifty Works by Fifty British Women Artists 1900 - 1950
Provenance: The Sherwin Family
Naomi Mitchison introduced Hermes in the catalogue to her Whitechapel retrospective, 1967, as "that wild girl Gert Hermes... always this burrowing underneath… under the leaves and water… the artist as magician – or if you like priestess". Prunella Clough chose the selection; these three friends collaborated on a feminine attitude to desire.
Hermes shared the modern, reforming aesthetic of sunlight and air and a commitment to an avant-garde modernism, favouring the integration of the fine and applied arts.
Frogs II was commissioned for a bird bath by Australian-born Sydney Cooper, who spent his weekdays in London bringing fresh eggs from his Hampshire farm to his Chelsea friends. Hermes had post-war casts made when she was flush.
The amphibious enchantment began with a chalk pebble carving – Frog, 1926; a bronze later exhibited at Paul Nash's exhibition Room and Book (Zwemmer Gallery, 1932) was described as "a good example of modern English ornament in which a natural object has been happily formalised… Miss Gertrude Hermes has designed many excellent shapes which are cast in brass or other material suitable for door knockers and similar half decorative, half useful things."
In 1934, Hermes used the inchoate qualities of clay for Frogs I (the precursor of Frogs II) as she did for two schematic figurines, Arms above Head and Arms Akimbo (one crested, one cloven), continuing figure revelations exploring a two in one duality. Hermes' Frog 'Motif ' Doorknocker, 1935, added to the palimpsest of magical transmogrifications.
Commentary by Jane Hill, curator and author of books on modern British art, including The Sculpture of Gertrude Hermes (2011).