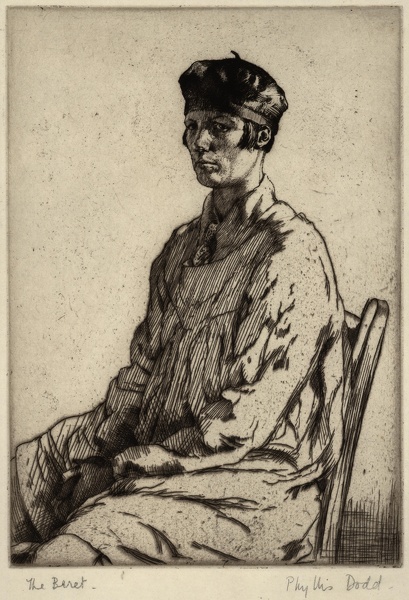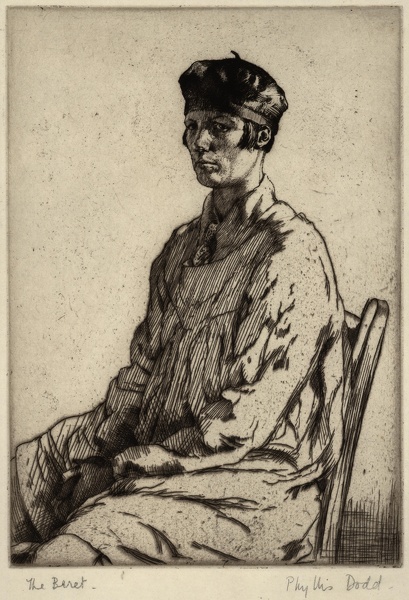 Hover over the painting to magnify (there may be an initial delay while the magnified image is loaded)
Phyllis Dodd (1899-1995):
The Beret (Pindi),1924
Unmounted (ref: 8381)

signed and inscribed with title, drypoint on paper,
paper size: 15 x 10 3⁄4 in. (38.2 x 27.5 cm),
plate size: 8 1⁄2 x 6 in. (21.5 x 15 cm).
See all works by Phyllis Dodd engraving etching portraits women WOMEN women portraits Mercer
Provenance: The Artist's Studio
Literature: Llewellyn, Sacha, et al. Women Only Works on Paper. Liss Llewellyn, 2021, p. 23.
Phyllis Dodd received a Royal Exhibition Scholarship to attend the Royal College of Art (RCA) for four years, from 1921-25, alongside Henry Moore (1898-1986), Raymond Coxon (1896-1997) and Edna Ginesi (1902-2000). In 1924, having achieved her Painting Diploma in two years (rather than three), she embarked on a Scholarship in etching and aquatint, under Frank Short. One of her earliest etchings – The Beret – shows a fellow student, Pindi, the pet name for Kathleen Bridle (1897-1989), who attended the RCA from 1921-25. Bridle went on to work as a glass painter in the Dublin studio of Harry Clarke and became one of the founders of the Ulster Unit in 1934. Frank Short insisted on draughtsmanship of the highest order as a prerequisite for entry to his course but this offered no barrier to Dodd, who in her fourth and final year won the drawing prize in the School of Painting. A confident self-portrait, dating to 1925, shows how well she mastered etching. The surviving drawing for the drypoint shows the process by which an image was first conceived on paper and then engraved on to the copper plate, which when printed appears in reverse. Unfortunately, she produced no more prints after leaving college despite Short's advice that she should concentrate on etching portraits because she was so fluently skilled in these. It was good advice at the time, but after the Wall Street crash, interest in this medium collapsed and never really recovered.
Phyllis Dodd was an accomplished portrait artist. Studying at the Liverpool School of Art from 1917–21, Dodd received a Royal Exhibition Scholarship and attended the Royal College of Art for four years – alongside Henry Moore (1898–1986), Raymond Coxon (1896–1997) and Edna Ginesi (1902–2000), with whom she would remain friends for the rest of her life – winning the Drawing Prize in her final year.
Pindi was the pet name for Dodds fellow student and friend Kathleen Bridle (1921-25). Dodd, Pindi and Norah McGuinness shared student accommodation in London.
Kathleen Bridle was born at Swalecliffe in Kent on 19 November 1897. Bridle enrolled at the Dublin Metropolitan School of Art (DMSA) in 1915. She won a teacher-training scholarship in 1917 and in 1920 a scholarship to the Royal College of Art Whilst there she became good friends with John Hunter, who gave her the nickname "Pindi", a name she kept for life.During this time she also became friends with the sculptor Henry Moore. She won the George Clausen prize at the RCA for her 1924 portrait of Norah McGuinness.
Bridle was employed briefly as a glass painter in the Dublin studio of Harry Clarke. Bridle was one of the founders of the Ulster Unit in 1934, and was featured in their inaugural exhibition. She was a regular exhibitor with the Ulster Academy of Arts from 1931 to 1949, being elected an associate in 1935 and an honorary member in 1962. In 1936 she held an exhibition at John Magee's gallery in Belfast. In 1947, Bridle's second major exhibition was held at the CEMA gallery, Belfast
A major retrospective of her work was held at the Fermanagh County Museum in 1998, which was toured to the Ulster Museum and the Armagh County Museum. Primarily Bridle was a watercolourist and landscape painter, but she also painted portraits in oils. Her 1948 self-portrait is held in the National Self-Portrait Collection of Ireland.
We are grateful to Carole Froude-Durix and Rosalind Bliss for assistance.