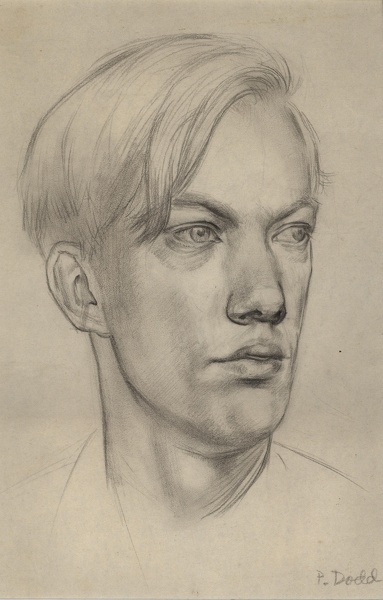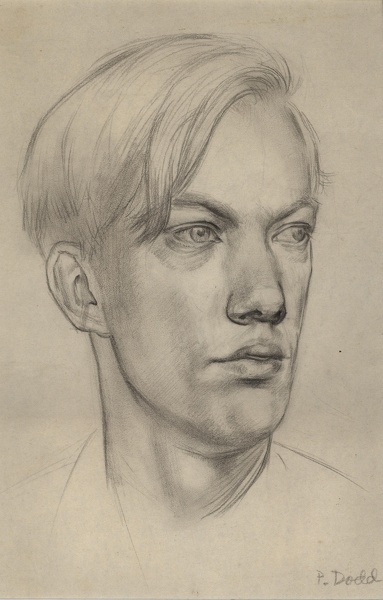 Hover over the painting to magnify (there may be an initial delay while the magnified image is loaded)
Phyllis Dodd (1899-1995):
Geoffrey Phibbs, c.1927
Unmounted (ref: 8380)

Signed
Pencil on paper
15 x 11 in. (38 x 28 cm)
See all works by Phyllis Dodd pencil men portraits 1.PORTRAIT OF AN ARTIST
Provenance: The Artist's Studio
Literature: Llewellyn, Sacha, and Paul Liss. Portrait of an Artist. Liss Llewellyn, 2021, p.207.
Jeoffrey "Geoffrey" Basil Phibbs (1900–1956) was an English-born Irish poet; he took his mother's name and called himself Geoffrey Taylor, after about 1930. Phibbs was born in Smallburgh, Norfolk. He was brought up in Sligo, and educated in England at Haileybury. In 1924 he married the artist Norah McGuinness, whom he divorced in 1930.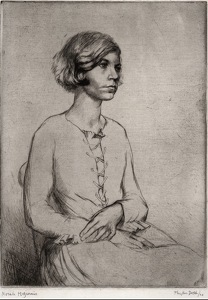 Their marriage break-up was initially brought about by his involvement with the poet Laura Riding, and the 'four-life' that existed between them, Robert Graves, and Nancy Nicholson. Upon meeting Phibbs in February, 1929, Riding recorded her first impressions:
'(Geoffrey) is tall and thin and slants forward as he walks. A lock of hair keeps falling over his forehead; he does not brush it away with his hand, but from time to time jerks his head back with an arched movement of his long neck. He is very black-looking; his face seems dark and hot. His eyes are blue, but these too feel dark, he is always looking down as if intensely preoccupied with something that has just happened to him. When he looks up, it is always suddenly and questioningly – placing the burden of conversation on the other person.'
Phibbs relationship with this group - and in particular with Nancy Nicholson - gradually came to an end, and it was she who introduced him to Mary Dillwyn, whom he married in 1940. They returned to Ireland, where he was subsequently known mostly for anthologies, and non-fiction writing. As literary editor of The Bell, he gave significant space to poetry from Northern Ireland,[ and allowed Roy McFadden a critical voice. His selection, Irish Poems of Today: Chosen from the First Seven Volumes of "The Bell", appeared in 1944. In the same period he met and struck up a strong friendship with John Betjeman; they worked on several poetry collections.
William Nicholson produced a portrait of Phibbs at a similar time to Phyllis Dodd, now in a private collection.