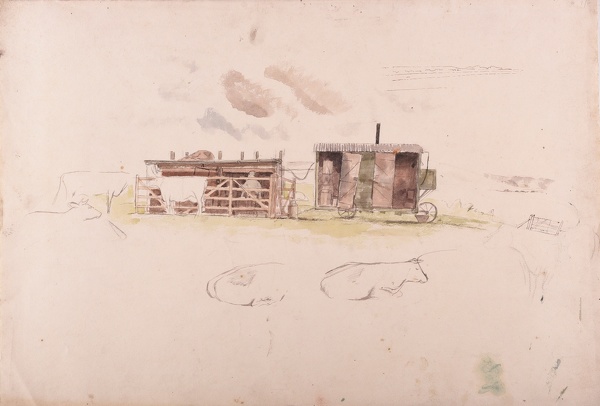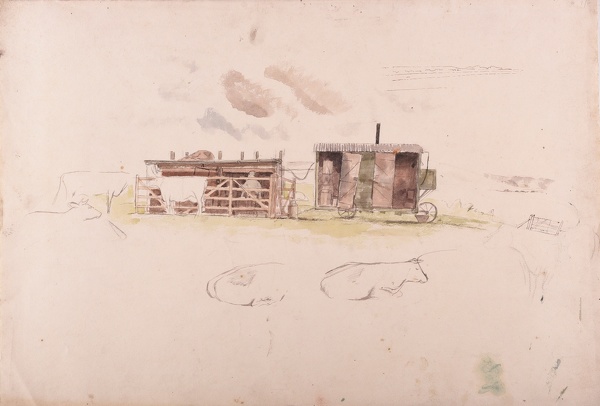 Hover over the painting to magnify (there may be an initial delay while the magnified image is loaded)
Evelyn Dunbar (1906-1960):
Study for background of A Land Girl and the Bail Bull
Framed (ref: 7896)
Pencil and watercolour on paper. 13 x 21 in. (33 x 53.3 cm)
See all works by Evelyn Dunbar pencil watercolour farms/domestic animals war 2.dunbar 2022 World War II Paintings by British Artists Evelyn Dunbar at The Watts Gallery
Provenance: Roger Folley; Alasdair Dunbar; Hammer Mill Oast Collection.
Exhibited: Evelyn Dunbar – The Lost Works, Pallant House Gallery, October 2015 - February 2016, cat 92. Literature: Evelyn Dunbar – The Lost Works, eds Sacha Llewellyn & Paul Liss, July 2015, cat. 92, page 138-139; WW2 - War Pictures by British Artists, eds Sacha Llewellyn & Paul Liss, July 2016, cat 105, page 149; Evelyn Dunbar: A Life in Painting, Christopher Campbell-Howes, October 2016, pages 331-335. The 'bail' in Dunbar's title was a tractor-hauled milking apparatus including petrol-driven suction pumps and - as in this drawing - a mobile milking shed. This equipment was designed to avoid driving the dairy herd across fields to the farm milking parlour. The setting is Sparsholt Farm Institute, Winchester, where Dunbar had worked in the early days of her 1940 appointment as war artist. She returned with her then fiancé, Roger Folley, in the summer of 1942, to make dawn sketches of the bail milking process. The milking process was later reduced to the middle ground of a much bolder statement symbolised by a Land Girl (modelled by Dunbar's sister Jessie) confronted by a bull, which she is about to capture. A Land Girl and the Bail Bull is now in the Tate.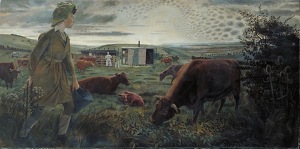 We are grateful to Christopher Campbell-Howes for assistance.