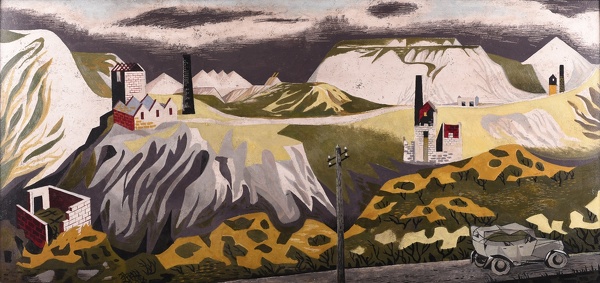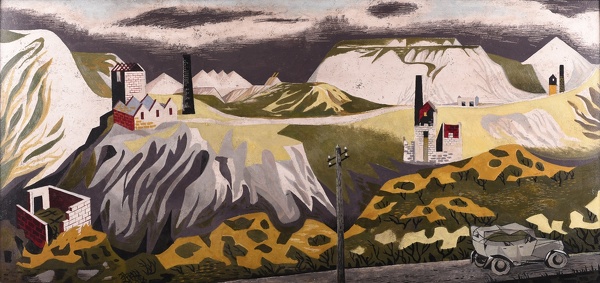 Hover over the painting to magnify (there may be an initial delay while the magnified image is loaded)
Mary Adshead (1904 - 1995):
The Old Rolls on Bodmin Moor; China Clay Landscape, circa 1950
Framed (ref: 7815)
Titled to reverse, The Old Rolls on Bodmin Moor China Clay Landscape
Varnished tempera on board
22 x 47 3/4 in. (58.5 x 121,5 cm)
See all works by Mary Adshead panel tempera landscape 1.Master Designs WOMEN
Provenance: The artist's son, Quentin Bone, thence by descent.
As a noteworthy female artist, Adshead exhibited frequently at the Women's International Art Club from the mid –1930s, before serving on their committee in 1951. Working at a time when expectations of women were still largely confined to issues of domesticity, her prodigious professional output was noteworthy. Her approach to mural painting – especially in her choice of subjects and her colourful palette – challenged the perceived divisions which determined that public and private spaces should necessarily be treated differently.
Contemporary subjects – motorcars in particular – can often been seen in Adshead's work. As with The Steps in the Victoria Gallery & Museum, or her image of Lady Louis Mountbatten waiting by her car in the murals Adshead executed for Lord Beaverbook, these cars usually appear in rural spaces, and show the way in which modern transport opened up the British landscape beyond the orbit of the railways. This too is the case in the Old Rolls on Bodmin Moor. In addition to this, it seemed that motorcars held a great personal appeal for the artist. In her 1995 obituary, Sally Hunter tells the anecdote of Adshead repairing the puncture of their family saloon as her husband, Stephen Bone, sang Irish ballads to the children. What is more, an image of the artist in her Fiat 505 Torpedo, pictured below, also shows her penchant for classical models.