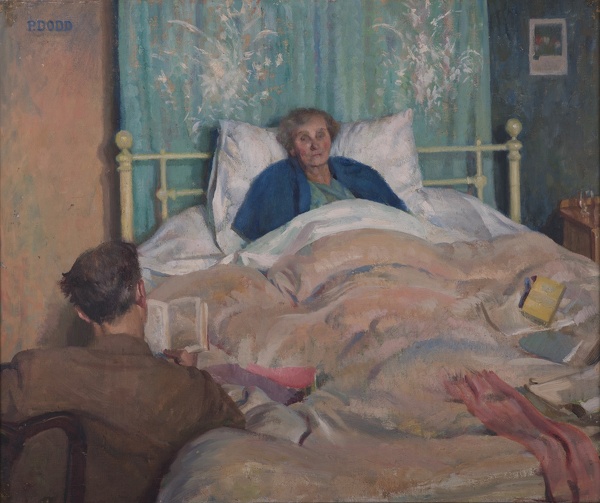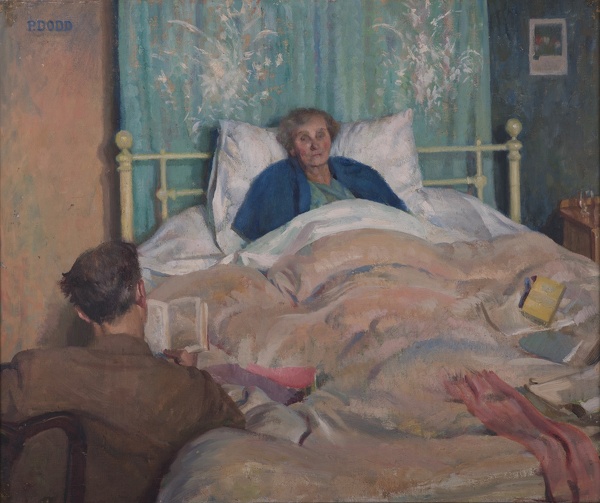 Hover over the painting to magnify (there may be an initial delay while the magnified image is loaded)
Phyllis Dodd (1899-1995):
Reading Boswell, 1947
Framed (ref: 7626)
Signed,
Oil on canvas,
20 x 24 in. (51 x 61 cm.)
See all works by Phyllis Dodd oil men reading women WOMEN
Exhibited: RGI 1947; Royal Academy, 1947. RSA 1948 Hatton Gallery 1989, cat no. 37
Literature: Prudence Bliss, A retrospective Exhibition of the Work of Phylis Dodd
Dodd moved to Glasgow in November 1946. The painting is a study of her mother-in-law, made during the very hard winter of 1947, when the best means of ensuring that the old lady was warm was to encourage her to stay in bed! Douglas Percy Bliss, her son, is seen from behind reading one of her favourite books to her.
We are grateful to Prudence Bliss for assistance.