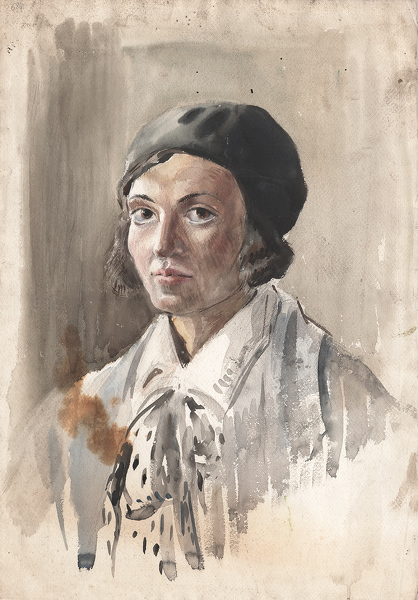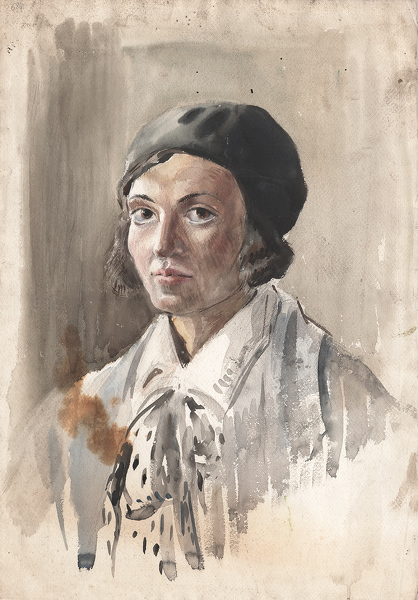 Hover over the painting to magnify (there may be an initial delay while the magnified image is loaded)
Evelyn Dunbar (1906-1960):
Self Portrait Drawing [HMO 684]
Framed (ref: 6681)

Pencil and watercolour on paper
22 x 15 in. (56 x 38.1 cm)
See all works by Evelyn Dunbar pencil watercolour portraits 1.PORTRAIT OF AN ARTIST 2.dunbar 2022 Golden Generation RCA women portraits Mercer Evelyn Dunbar - The Last Works Evelyn Dunbar at The Watts Gallery
Provenance: Roger Folley; Alasdair Dunbar; Hammer Mill Oast Collection
Literature: Llewellyn, Sacha, and Paul Liss. Portrait of an Artist. Liss Llewellyn, 2021, p.298.
Exhibited: Evelyn Dunbar - The Lost Works, Pallant House Gallery, October 2015 - February 2016, cat 11. Literature: Evelyn Dunbar - The Lost Works, eds Sacha Llewellyn & Paul Liss, July 2015, cat. 11, page 43; Evelyn Dunbar: A Life in Painting, Christopher Campbell-Howes, October 2016, page 87.
This self-portrait was probably one of a student portfolio of six water-colours submitted for exhibition at the Royal College of Art, December 1930. The other contents of this portfolio, representing work with the Royal College of Art holiday sketching club the previous summer, are lost. Tantalisingly, one was entitled The Miracle. In the oils section Dunbar included The Onion Bed, also lost, presumably originating from The Cedars vegetable garden.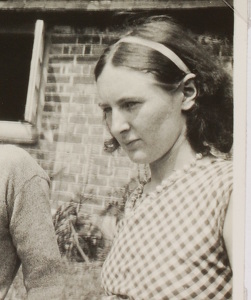 We are grateful to Christopher Campbell-Howes for assistance.