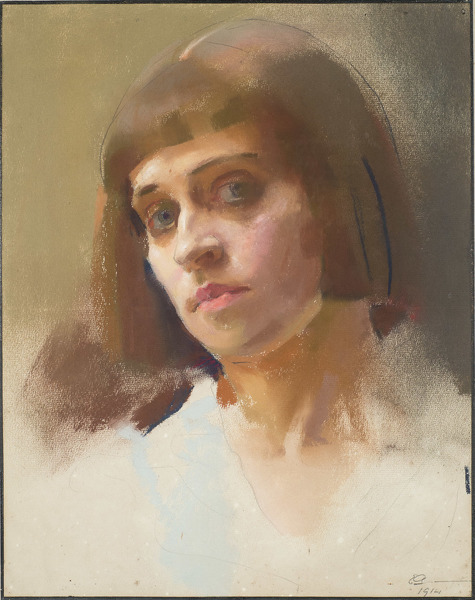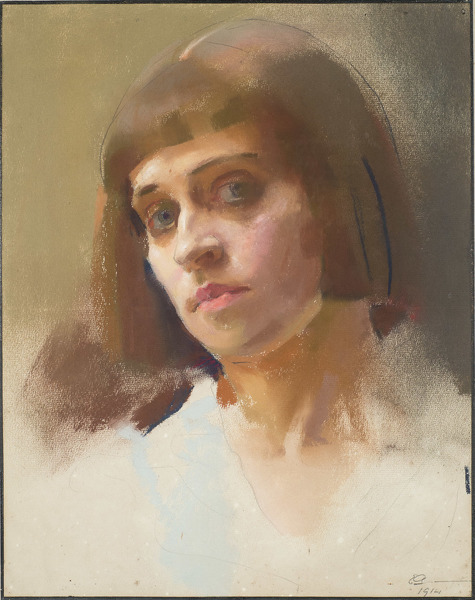 Hover over the painting to magnify (there may be an initial delay while the magnified image is loaded)
Edith Granger-Taylor (1887-1958):
Self Portrait, 1914
Framed (ref: 6612)

Signed with monogram
Pastel

14.2 x 10 in. (36 x 25.5 cm)
See all works by Edith Granger-Taylor pastel portraits women 1.PORTRAIT OF AN ARTIST WOMEN women portraits Mercer New Stock
Provenance: The Artist's Studio
Literature: Llewellyn, Sacha, and Paul Liss. Portrait of an Artist. Liss Llewellyn, 2021, cat 1
Exhibited (?): Society of Women Artist's. 1923 (327)

Dating to 1914 this portrait is likely to have been undertaken during Granger-Taylor's first year St. John's Wood Art School (1914), after she had completed her initial training at The Royal Academy Schools. Her technical brilliance was to be further refined by a term of study at the Slade School of Fine Art in 1919, under Henry Tonks.
We are grateful to Nicholas Granger-Taylor for assistance.