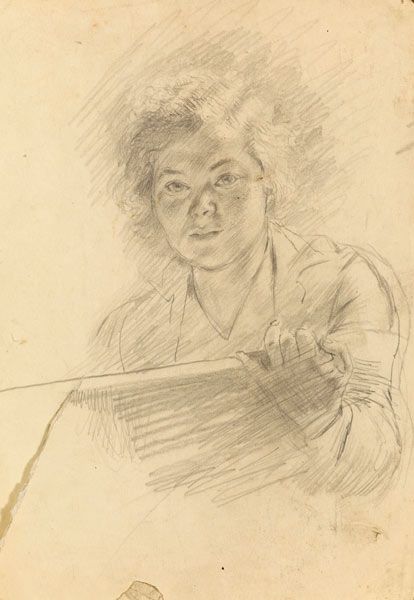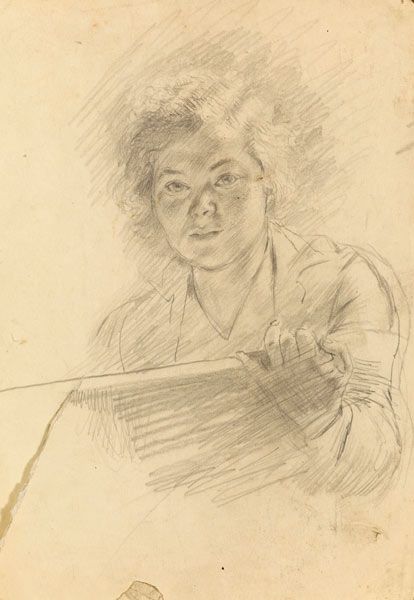 Hover over the painting to magnify (there may be an initial delay while the magnified image is loaded)
Evelyn Dunbar (1906-1960):
Portrait of the artist Margaret Goodwin
Unmounted (ref: 5487)

Pencil on paper
11 x 9.1 in. (28 x 23 cm)
See all works by Evelyn Dunbar pencil portraits women 1.PORTRAIT OF AN ARTIST 2.dunbar 2022 Golden Generation RCA WOMEN women portraits Mercer New Stock
Provenance: Private Collection
Literature: Llewellyn, Sacha, and Paul Liss. Portrait of an Artist. Liss Llewellyn, 2021, p.222.
Margaret Goodwin, a friend and contemporary of Evelyn Dunbar's at the Royal College of Art, School of Drawing and Painting, attended the sschool from 1929 to 1933. The two remained friends. It is recorded that they holidayed together, with Mrs Gwynne-Jones (mother of Allan Gwynne-Jones), at Strawberry cottage, possibly around the time war was declared, and in April 1941, in the Lake District, with Roger Folley, (Dunbar's future husband) and Glynn (William) Burton.
We are grateful to Gill Clarke for assistance.