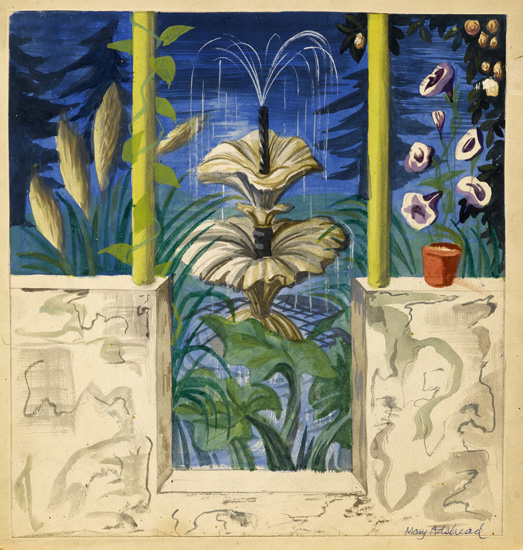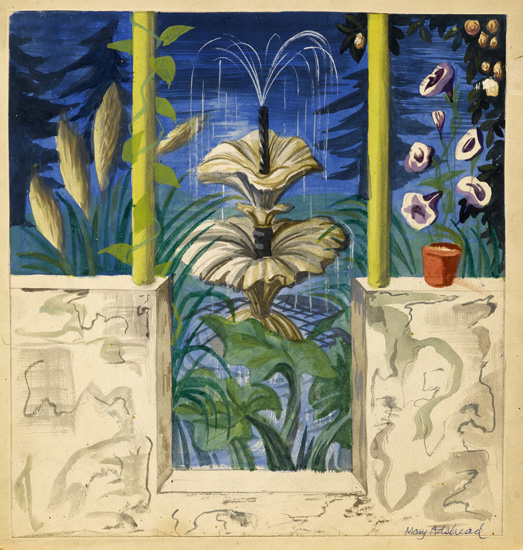 Hover over the painting to magnify (there may be an initial delay while the magnified image is loaded)
Mary Adshead (1904 - 1995):
Study for mural for tea room, Luton Hoo, Bedfordshire, c.1949
Unmounted (ref: 5402)

Signed,
gouache over pencil on card,
27 x 26 cm (10 1/2 x 10 3/8 in.)
See all works by Mary Adshead gouache pencil flowers murals
Luton Hoo, in Bedfordshire, owned by Sir Harold and Lady Zia Wernher, was opened to the public in 1950. Adshead was commissioned to decorate the restaurant in 1949. Part, but not all, of her mural still exists. Through the use of trompel'oeil Adshead's design plays on the landscape in which Luton Hoo stands with far reaching fanciful views beyond.
A contemporary account, (quoted by Ann Compton in Earthly Delights, Mary Adshead, University of Liverpool Art Gallery, 2005, p. 54) describes entering the restaurant:
As the door opens, we have the illusion of stepping into a cool marquee, airy and balloon-like, as we look out, under the awnings, into a land and land and seascape of the artist's imagining. The extraordinary thing is that there is no feeling of being constricted within four wall the design has the effect of dissolving them away.