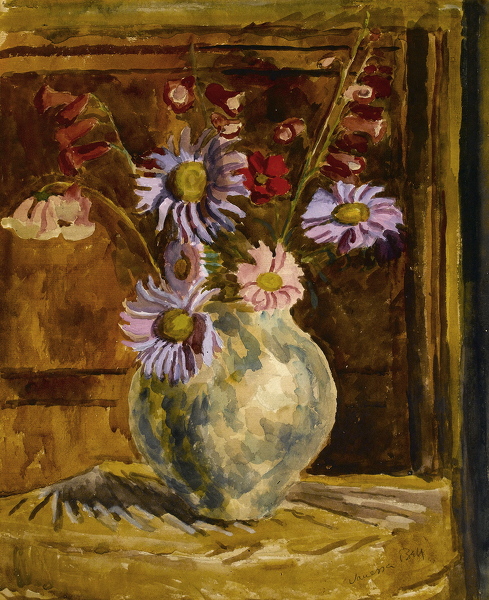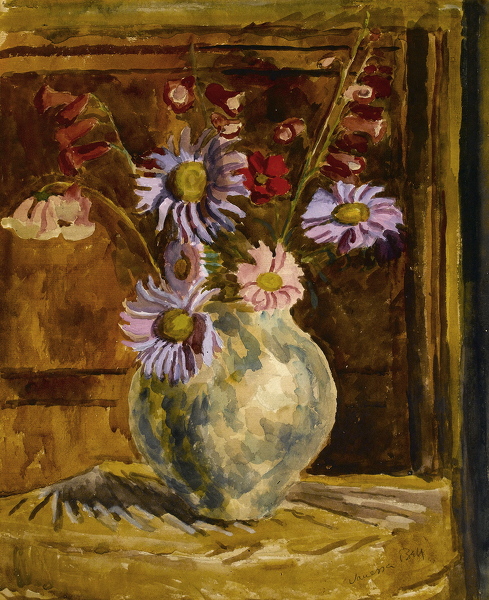 Hover over the painting to magnify (there may be an initial delay while the magnified image is loaded)
Vanessa Bell (1879-1961):
Still life of flowers in a vase, violet and pink chrysantemem, late 1940's
Unframed (ref: 4780)

Signed in pencil
Watercolour, 19 3/4 x 16 in. (50 x 40.5 cm.)
See all works by Vanessa Bell pencil watercolour flowers still lifes
Provenance: given by Vanessa Bell to Su Hua Ling Chen in the late 1940's; thence by descent to her daughter Ying Chinnery in 1990.

The Provenance of this watercolour holds the key to an extraordinary story: It was given in the late 1940's by Vanessa Bell to Su Hua Ling Chen (1900-1990) an artist and writer and wife of the renown essayist Chen Yuan. In the 1930's Su Hua was the lover of Vanessa Bell's son Julian. Julian Bell was at this time working at Wuhan University where Su Hua's husband Chen Yuan was Dean of Arts. When Chen Yuan found out about the affair (Julian was working in his department), Julian agreed to resign to avoid a scandal. Julian Bell subsequently went to fight against Franco and died in Spain. Chen Yuan and his circle were considered the Chinese equivalent of the Bloomsbury set but being more conservative by nature Su Hua's affair caused a tremendous scandal. Chen Yuan left China and came over to the UK to head the Sino British Arts Council, and was later made permanent delegate to the UNESCO. Su Hua followed her husband to England in 1947, and made friends with Vanessa Bell and Duncan Grant. Through Julian Bell she had already corresponded with Virginia Woolf who encouraged her to write short stories in English, published as Ancient Melodies in 1953, by Hogarth Press, (run by Leonard Woolf). The preface to Ancient Melodies was written by Vita Sackville West (a good friend of Su Hua) - J.B Priestly praised it as the best book written in 1953.

Su Hua only saw Vanessa Bell very discreetly, not wishing to mention this re acquaintance with the Bell family to her husband. For this reason the watercolour remained hidden from view and only came to light when her daughter Ying discovered it after her mothers death in 1990. This explains the remarkable vibrancy of the watercolour whose pristine colours have never faded.

Su Hua is referred to in letters by Vanessa Bell simply as 'Sue'. Julian Bell wrote about his affair in letters sent to his mother and a friend, published in: "A Journey to the Frontier- Julian Bell and John Conford". Su Hua has also been the subject of two other books: one book published in 2006 by Sasha Welland, (her great niece), A Thousand Miles of Dreams, and another by Prof. Patricia Laurence of Columbia University, Lily Briscoe's Chinese Eyes: Bloomsbury, Modernism, and China.

Chen Yuan is still renowned in China (known as Chen Xiying). He never, however, after the liasion between Su Hua and Julian Bell, regained the height of his literary powers.

We are gratefuly to Ying Chinnery for assistance.