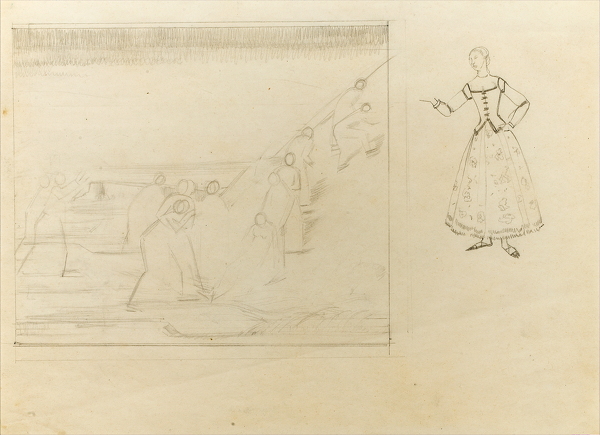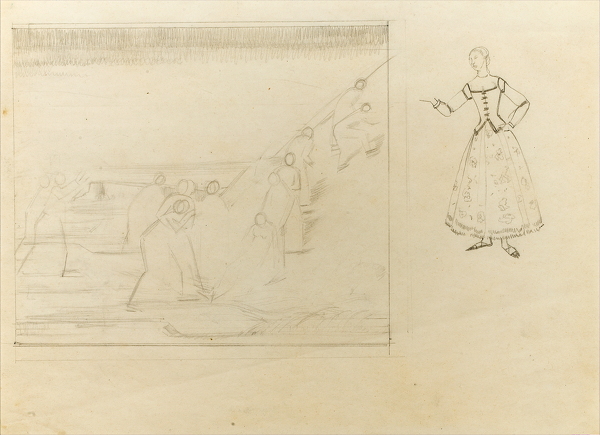 Hover over the painting to magnify (there may be an initial delay while the magnified image is loaded)
Winifred Knights (1899-1947):
Self-portrait and Study for The Deluge, c. 1920
Framed (ref: 3640)

Pencil on paper,

6 1/4 x 9 1/4 in. (16 x 23.5 cm.)
8 1/4 x 11 1/4 in. (21 x 28.5 cm.) framed)

See all works by Winifred Knights pencil allegory women Knights at Dulwich World War One and its Aftermath
Provenance: Private Collection
Literature: Llewellyn, Sacha, Winifred Knights, Lund Humphries 2016
Exhibited: Dulwich Picture Gallery, 2016
In 1920, Winifred Knights won the Rome Scholarship in Decorative Painting, considered at the time to be 'the highest distinction of its kind in the Empire'. Her winning entry, The Deluge, was exhibited at the Royal Academy in February 1921 to wide-spread critical acclaim, and Winifred Knights, the first woman to win the scholarship and nine years younger than the three other finalists, was declared to be 'a genius'.
The Scholarship rules dictated that the painting was produced in oil or tempera, together with an accompanying cartoon, both of which were to be executed in eight weeks. Winifred Knights commenced work on July 5th, 1920, and despite losing time due to a bouts of tonsillitis, she was judged the unanimous winner.
The finished work – now in the collection of the Tate Gallery – is not only the most enduring competition painting produced for the Rome Scholarship, but one of the nation's best-loved pictures, as its strikingly modern composition continues to cast a spell over the gallery's visitors.
This early compositional study shows a number of fleeing figures, rushing towards the higher ground offered by the slope on the right hand side. While the dynamic self-portrait of the painting is missing from this study, it does share both the simplification of form and emphasis on diagonal lines favoured in the final work. The self-portrait of Knights in the margins of this study may also show her toying with the idea of this alteration.