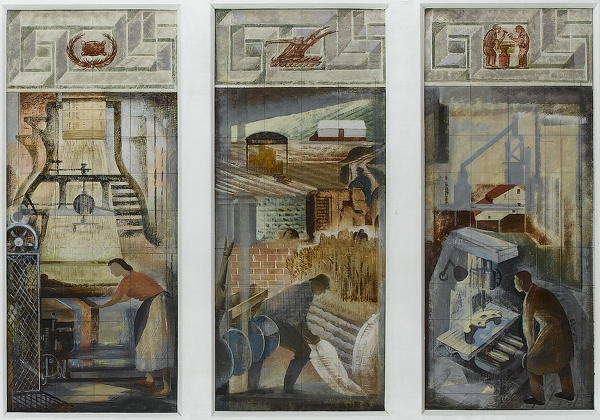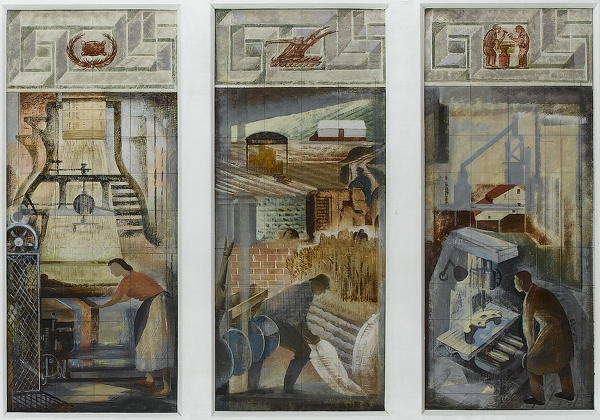 Hover over the painting to magnify (there may be an initial delay while the magnified image is loaded)
Jean Clark (1902 - 1999):
Study for the Committee Room of the London Bankers Clearing House, 1958
Framed (ref: 2001)

Signed and dated, titled on a label to the reverse
Tempera on prepared panels,
five 42 x 18 cm (16 1/2 x 7 in.),
two 42 x 9 cm (16 1/2 x 3 1/2 in.)
See all works by Jean Clark panel tempera murals science TOP 100 transport 1.Master Designs WOMEN Science, Technology and Industry
Provenance: acquired from the artist's daughter, 2004
Literature: Llewellyn, Sacha, et al. Women Only Works on Paper. Liss Llewellyn, 2021, p. 79.
Exhibited at The Royal Academy of Arts in 1958 (933), this design in tempera was commissioned by Austen Hall, an architect and friend of the artist, for the Bankers' Clearing House, which occupied the eastern part of Coutts and Co., 15 Lombard Street, (completed in 1955 by the architectural practice of Whinney, Smith & Austen Hall). The finished mural, which measured over 6 ft in height, was worked on in Jean Clark's St. Peters Square studio. The panels depict Transport, Commerce, Industry, Agriculture and Science, and are flanked either side and along the top by motifs taken from token coins (used as an alternative to small change, for example by pubs or fairgrounds). When the Clearing House relocated in 1992 the original panels were removed and acquired by the Museum of London.
The term tempera refers to any painting medium consisting of coloured pigments mixed with a water- soluble binder, usually egg yolk. Typically painted on a ground prepared with gesso, tempera is characterised by the fact that it does not afford areas of impasto (textured paint) and dries quickly and therefore colours cannot be blended.
Design for Mural for the Committee Room of the London clearing Bankers,
In an original Alfred Syles fruit wood wedge section frame with gesso window mount, overall size 65 x 150 cm.
Main image showing 3 panels. Entire study consists of the following 7 panels:




Exhibibited: Royal Academy, 1958, (933)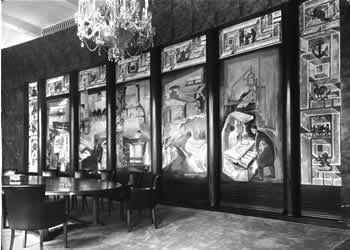 This design was commissioned by Austen Hall, an architect and friend of Clarke's, for the Bankers Clearing House, which occupied the eastern part of Coutts and Co. 15 Lombard Street, (completed in 1955 by the architectural practice of Whinney, Smith & Austen Hall). Once Clark's design had been submitted and approved the finished Murals, which measured well over 6 ft in height, were worked upto in Clark's St. Peters Square studio. The panels depict Transport, Commerce, Industry, Agriculture, and Science. The two panels to either side, and along the top, show mofits taken from token coins - money made (sometime officially, sometimes unofficially) as an alternative to small change, for example for used by pubs or fairgrounds. When the Clearing House relocated in 1992 the original panels were removed and acquired by the Museum of London.

We are grateful to Michael Barker for assistance