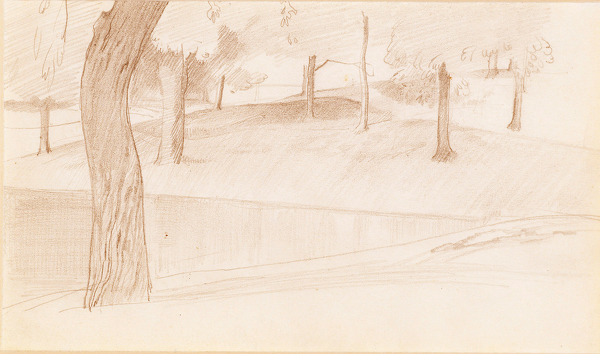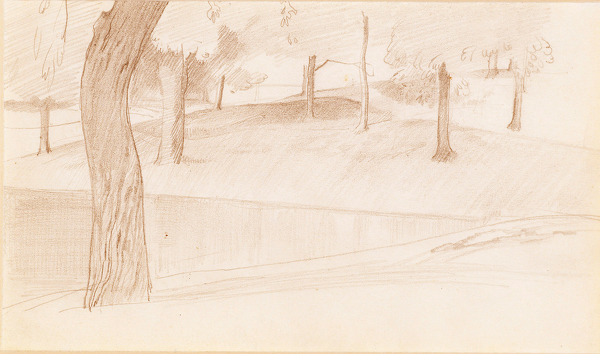 Hover over the painting to magnify (there may be an initial delay while the magnified image is loaded)
Winifred Knights (1899-1947):
Trees in the Borghese Gardens
Framed (ref: 1648)
Pencil
4 x 6 1/4 in. (10 x 16 cm)
See all works by Winifred Knights pencil flowers landscape
Provenance: The Artists Family
In a reeded mahogony frame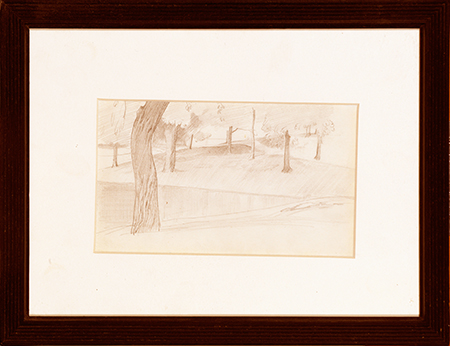 The Borghese Gardens, situated by The British School at Rome, provided Knights with a setting for many of her Rome School compositions, for instance
The Marriage at Cana
. The gardens also provided an area where Knight's could avoid the noise of the city. In her first letter home from Rome she wrote:
I can't tell you how lovely Rome is Mother. The gardens are so beautiful and all the plants and trees are different. The school is a beautiful building also. And it is so comforting to come back to English people after all the shrieking foreigners they are a noisy lot.
(5th November 1920)
" My picture will be very beautiful. I have drawn 11 plates of melon, pink melon, 9 glasses of wine some empty, partly because they have run out, and 38 people". (Letter from Knights to her mother, 24 August 1922)
Knights sets the Biblical Narrative in the Villa Borghese Gardens, situated below the British School at Rome. Her interpretation of the story in the manner of a realistic feast was inspired by the lunches and dinners hosted at the British School. Choosing to depict a moment in the feast when the wine is running low, Knights provides the guests with slices of watermelon, reflecting the local culinary tradition of serving fruit after the desert course. Knights appears among the guests, seated at each of the three tables. She has also included Arnold Mason and three fellow Rome Scholars, Alfred Hardiman, Lilian Whitehead and Thomas Monnington (her future husband).