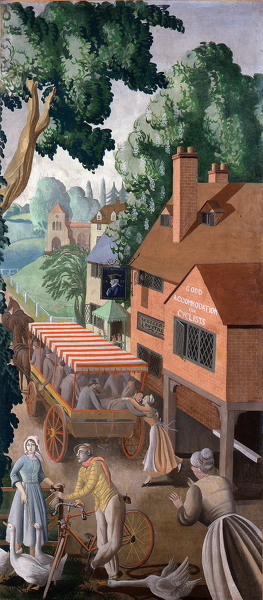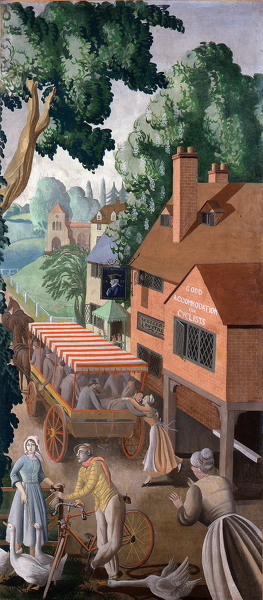 Hover over the painting to magnify (there may be an initial delay while the magnified image is loaded)
Mary Adshead (1904 - 1995):
An English Holiday - Village Inn, 1928
Framed (ref: 1284)
Signed lower left
Oil on canvas, 85 1/2 x 38 in. (217 x 96.5 cm.)

See all works by Mary Adshead oil big pictures murals Modern British Art at Mercers' Hall WOMEN
Exhibited: An English Holiday, Peter Jones, London, 1930
Literature: M.H.Clough & A.Compton (ed), Earthly Delights:Mary Adshead 1904-1995, exh. Cat., University of Liverpool Art
'In many works, and particularly the murals for Lord Beaverbrook (1928), Adshead's figure painting combines a fashionable primitivism, loosely derived from Stanley Spencer, with a fluency and humour rarely found among her contemporaries' (Ann Compton in
Earthly Delights: Mary Adshead
, exh. cat., Liverpool Art Gallery, 2005,p.11).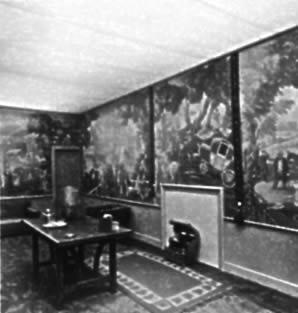 The Puncture and The Village Inn were two of eleven scenes in the series An English Holiday, commissioned by the British-Canadian business tycoon and politician Lord Beaverbrook early in 1928, for the dining room at Calvin Lodge, Newmarket. The murals were described at the time as being in 'the manner of English eighteenth-century sporting prints and acquatints' (Architectural Review, vol.67, 1930, quoted by Compton, ibid. p.33). The influence of Rex Whistler, who like her was a student at the Slade and with whom she worked on murals for Sir Joseph Duveen, is apparent.

The model for The Puncture was Lady Louise Mountbatten, the Crown Princess (and later Queen) of Sweden. Much liked, but of a nervous and eccentric disposition, she was famed for her lack of road sense. Later in life she carried a small card with her on which were printed the words: 'I am the Queen of Sweden.' When her brother, Louis Mountbatten, asked for an explanation of this, she replied simply: 'Well, if I was to get knocked down in the street, nobody would know who I was. If they look in my handbag, they'd find out.'

The commission for An English Holiday was withdrawn by Lord Beaverbrook in August 1928, after the intervention of his friend Lady Diana Cooper on the grounds that Beaverbrook would quarrel with most of the people (his friends and acquaintances) who served as the models for scheme.The figures in TheVillage Inn have yet to be identified.

As recently as 2005, the time of the Liverpool Art Gallery exhibition of Adshead's work, this painting was believed to have been destroyed.