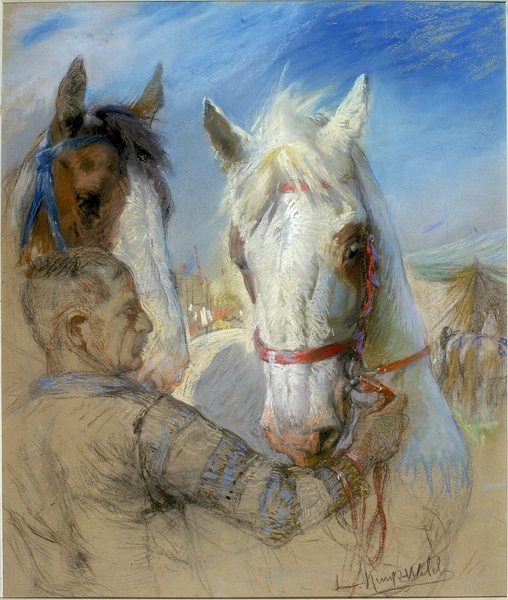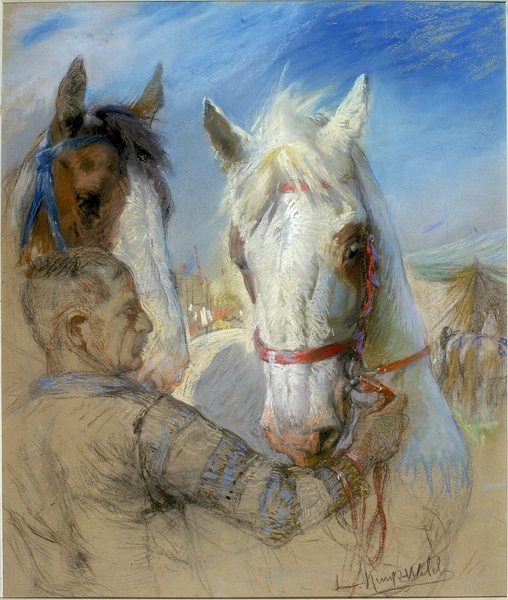 Hover over the painting to magnify (there may be an initial delay while the magnified image is loaded)
Lucy Kemp-Welch (1869-1958):
Circus Man Holding Two Horses, c. 1926
Unmounted (ref: 11159)

Signed
Pastel on paper
16 1⁄4 x 133⁄4 in. (41.3 x 34.8 cm)
See all works by Lucy Kemp-Welch
Lucy Kemp-Welch specialised in depicting working horses. In this study, she has expertly but sparsely sketched in the figure of the horse handler, while emphasising the horses with colour and detail.The animals' muscles, delicate noses, and soft hair demand the viewer's full attention. The realistic detail reflects Kemp-Welch's thorough knowledge of animal anatomy gained during her studies at a horse hospital in Christchurch, Dorset. She later applied this knowledge when travelling with John Sanger's circus from 1926.
Kemp-Welch first became interested in horses as artistic subject matter when, during her childhood in Bournemouth, she was encouraged to sketch ponies in the New Forest. She was later elected one of the first two female members of the Royal Society of British Artists in England. Her talent at depicting animals was also recognised when she was awarded medals at the Paris Salon.
Collection of the Laing Art Gallery. Bequeathed by Arthur J Fenwick 1963.