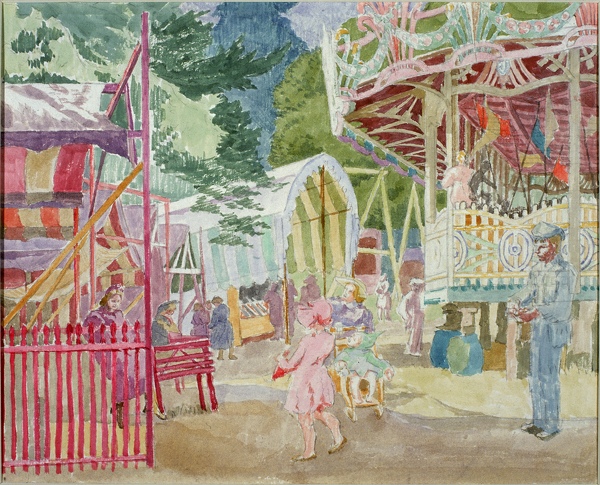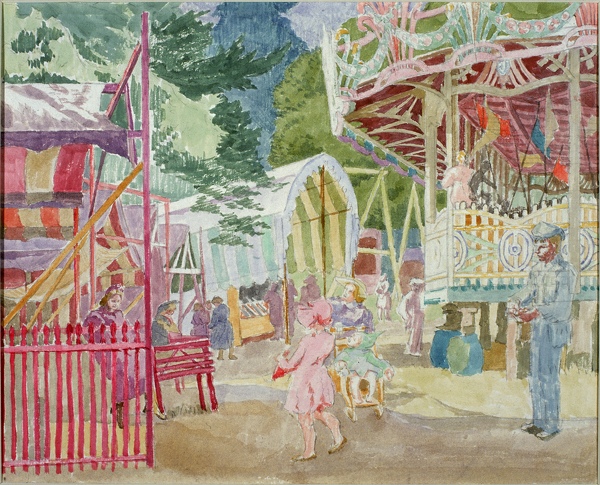 Hover over the painting to magnify (there may be an initial delay while the magnified image is loaded)
Therese Lessore (1884-1945):
The Fair at Bath, about 1925-30
Unmounted (ref: 11156)

Watercolour on paper
10 x 12 3⁄4 in. (25.6 x 32.2 cm).
See all works by Therese Lessore
Thérèse Lessore found great enjoyment in displays of popular entertainment. She visited and sketched fairs with her second husband, the Camden Town artist Walter Sickert, whom she married in 1926. In the 1920s and 1930s, Lessore also produced many paintings of Swallow's Circus in Islington, London. Like many other artists of the time, her choice to depict ordinary entertainments was to some extent a conscious rejection of classical subject matter. In this watercolour, Lessore emphasised the decorative qualities of the rides and the patterns of the fairground awnings and fencing.The bright colours give an impression of the energy of the fairground experience. Old Woman, an image of an old woman huddled into a corner, captures a moment of exhaustion. She faces away from the busy crowd underneath the railway arches, as if to signal her alienation from modernity.
Lessore came from an artistic family, and the atmosphere of the household has been described as 'ambitious and creative'. Her father, Jules Lessore, was a painter and etcher, perhaps influencing Thérèse's decision to create a series of etchings. From 1904 to 1909, she studied at the Slade School of Fine Art, where she won the Melville Nettleship Prize for Figure Composition. In 1913, she founded the London Group with her then husband Bernard Adeney. She had her first solo exhibition in 1918 at the Eldar Gallery, London.
Collection of the Laing Art Gallery. Bequeathed by Thérèse Lessore and the Sickert Trust 1948.