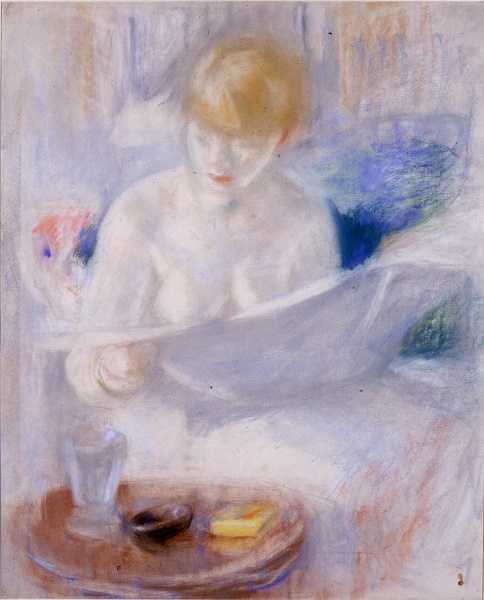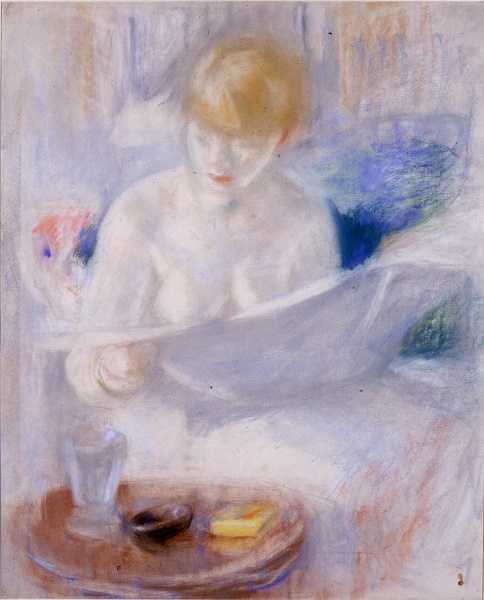 Hover over the painting to magnify (there may be an initial delay while the magnified image is loaded)
Julia Beatrice How (1867-1932):
Lisant Dans Ie Lit (Reading in Bed), after 1910
Unmounted (ref: 11154)

Pastel and pencil on board
25 1⁄2 x 21 in. (64.8 x 53.5 cm).
See all works by Julia Beatrice How
A woman is engrossed in the pages of a newspaper, with a small table beside her bed serving to establish the foreground space.The artist has layered fragile strokes of pastel, creating a luminous quality to the woman's skin.The scene is lit by bright daylight, seemingly from a window out of sight on the left, and the artist has placed bright blue behind the figure to strikingly set off the pale hues of the sketched figure. Beatrice How (she dropped her first name of Julia) was born in Devon, England. She began studying in Paris at the prestigious Académie Delécluse in about 1893. She subsequently lived in France where she exhibited extensively, also showing some works at the Royal Academy of Arts in London. After 1910, How concentrated on studies of women and children in interiors, becoming best known for this type of subject.
Collection of the Laing Art Gallery. Purchased in 1935.