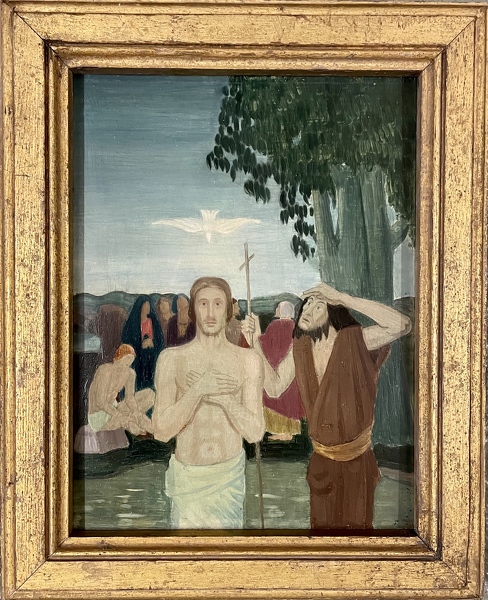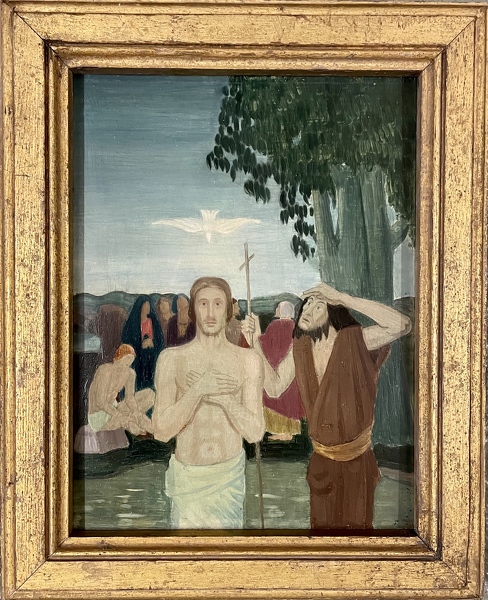 Hover over the painting to magnify (there may be an initial delay while the magnified image is loaded)
Margaret Gere (1878-1965):
The Baptism
Framed (ref: 10885)

Tempera on panel
9.4 x 7.3 in. (23.8 x 18.5 cm)
See all works by Margaret Gere panel tempera religion Hidden Gems Season II: Spirituality
Provenance: From the collection of John Redman
Exhibited:The Barbican Art Gallery, London, The Last Romantics, catalogue no. 101;City Museum & Art Gallery, Birmingham, Mastery Art (Birmingham School of Art 1884-1920), November 1986 - January 1987;Cheltenham Art Gallery & Museums, Margaret Gere Exhibition, catalogue no. B4, 21 January - 3 March 1984.
John Redman lived with the Payne and Gere families in their Cotswold home during the 2nd World War from 1940 to 1944. He points out the home was a constant visiting location for a number of important artists and writers including Sir Stanley Spencer, Vanessa Bell, Virginia Woolf, Sir William Rothenstein, George Bernard Shaw, John Betjeman and many others.
He has collected a comprehensive range of the Payne and Gere families works through a lifetime's friendship with Edward R. Payne (1906-1991), the Payne's second son of three and also an artist. These are well represented by the selection shown in this auction.